What's happening at First Baptist Church Forest Park?
There's always something great happening at FBC Forest Park for you and your family. Stay up to date with our announcements and explore our full calendar of upcoming services and events below!
__________________
Get involved!
While our activities are limited due to Covid-19, the ministry of the church continues. And we can't do ministry without faithful volunteers! Sign up below through our SignUp.com account. You can also call the church office and we will help you sign up to volunteer.
__________________
Upcoming Events
Family Christmas - A night of praise and celebration!
Wednesday, December 23rd at 6:00
No Christmas Eve service this year.
__________________
__________________
Sign up for announcements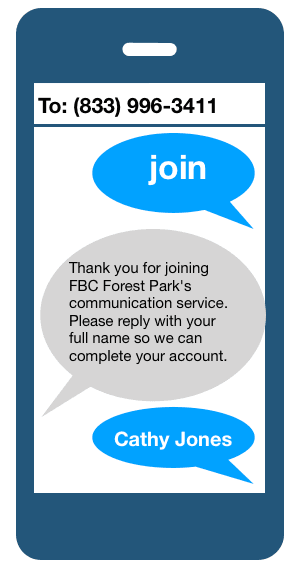 Step 1: Text "join" to (833) 996-3411 to sign up to have our announcements sent to you.
Step 2: You will receive an immediate confirmation.
Step 3: Reply back with your first and last name so we can complete our records.
This communication service allows us to send you text messages and voicemails.
We promise not to over use this service. We don't like spam either!
__________________
Church Calendar